MODEL DETAILS
MODEL AMF 950 RIB
DESIGNER De Villiers and Van Schalk
BUILDER AMF Boats
SPECIFICATIONS
LOA 9.6M
LENGTH (Waterline) 9.6M
BEAM 7.934M
DRAFT 0.5M
DISPLACEMENT 3505kg
ENGINE 2 x 250hp Yamaha outboard
FUEL CAPACITY 625L
Max Horsepower 500hp
Passenger Capacity 6 people
DEADRISE 20 degrees
Replacing Coastguard North Shore's 10-year-old Quick Response Vessel was a complex project, but a dedicated group of volunteers, supported and funded by the local community, made certain it got exactly the right vessel.
---
Coastguard North Shore is based at Browns Bay. Situated where it is, it's one of the busiest Coastguard units in the country and its vessels put in thousands of hours every year.
Its previous Quick Response Vessel, a custom-built AMF 9.5m aluminium-hulled RIB launched in 2007, has completed more than 10,000 hours on the water and is on its fifth set of outboards. She's now bound for Houhora where she should provide many more years of service with the local Coastguard unit.
Heading up Coastguard North Shore's boat build committee was John Kothe, a position he also filled for the last boat. John project managed the procurement process for both vessels. Working with Coastguard North Shore's crews, the boat committee came up with very specific criteria for the new rescue vessel.
"Basically," explains John, "we asked our crews to list everything they liked about the old vessel and everything they didn't – or wanted changed. We also asked for new features the guys wanted. Some of the ideas were too far out there or too difficult to implement, but others were great and have been incorporated in the new vessel's design."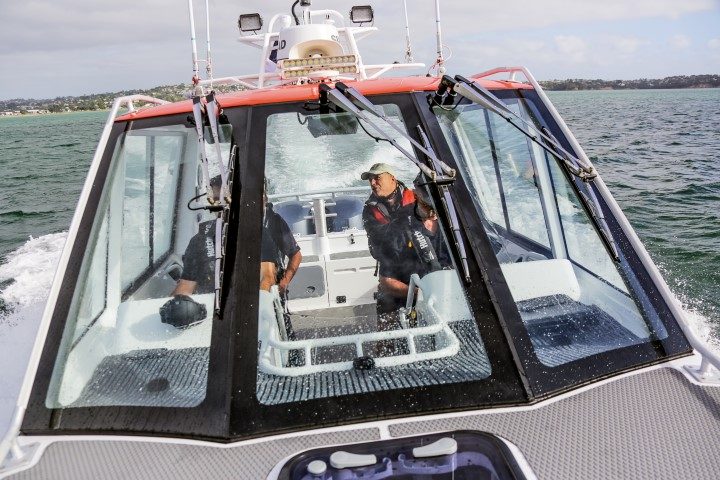 The 'likes' list was considerably longer than the 'dislikes', which made it easy to once again go with AMF as the supplier.
"We put the build out to tender, and when they were all in it was AMF's proposal that best matched our requirements. It wasn't the cheapest, but the committee was satisfied AMF would provide the sort of vessel and build quality we required. We were happy to continue the relationship with the Wanganui boatbuilder that started with the previous rescue vessel."
AMF principals Jodi and Brian Collings worked closely with naval architects De Villiers and Van Schalk to build North Shore Rescue to Coastguard North Shore's specifications.
"Essentially, she's very similar to the old boat, which was a brilliant rescue vessel, but with modifications and improvements resulting from 10 years' experience with the last boat," says John.
The most noticeable differences between the new vessel and the old is the glass house. Shorter crew found it difficult to see from the helm of the old vessel, so AMF changed the helm console design, lowering the dashboard and the forward cabin roof to give a better field of view through the three-pane windscreen.


The hardtop's toughened glass area extends further down the cabin too, for better all-round vision, and a diesel demister on the inside and three KAD windscreen wipers on the outside keep the windscreens clear at all times.
The designers achieved a bigger glasshouse without raising the hardtop roof, which has sufficient headroom for the tallest crew members to stand up in a seaway without hitting the ceiling. The boat will normally operate with a crew of four or five.
Down below the floor of the forward cabin has been lowered to provide seated headroom despite a lowered roof line. The pump that drains water from the fore-cabin has been shifted from the front to the back to deal with water that used to pool there when the boat sat on its trailer. A dogged hatch provides access from the forward cabin to the bows, which has another heavy-duty bollard and an anchor locker.
Vessel ergonomics were carefully considered. To achieve the layout and precise positioning of everything – lighting, equipment, grab rails, seats and storage bins – a full-size cabin mock-up was built in MDF in the garage of an accommodating Coastguard member.
Once the boat committee was happy and precise dimensions had been recorded, AMF flew a team up to Auckland to look over the mock-up and make further notations.
The team even supplied AMF with the gear they wanted to carry onboard so AMF could customise the storage precisely, as illustrated by the functional layout in the forward cabin with secure stowage for Pelican cases containing first aid and other emergency gear. The cabin layout is new, with a single berth on the starboard side suitable for an injured person and a seat opposite.
Another major difference with the new boat is the high-tech seating. Previously, crews made do with bolstered leaners. While they provided decent lateral support, crew had to support their own weight and cushion the ride using their knees. This was tiring in heavy weather.


The new boat boasts a set of four straddle-style suspension Scotseats from KPM Marine. These highly-engineered seats, each adjustable for height and suspension travel, use either a spring or a pneumatic Fox shock absorber.
The bolstered seats provide good support, carrying most of the occupants' body weight but still allowing them to plant their feet securely on the floor. The cockpit and hardtop soles are covered in non-slip rubber over neoprene padding for improved crew comfort. Standing passengers have plenty of heavy-duty handrails and leaners for support.
The vessel's grab rails have knurled surfaces for superior grip, something the boat committee specified early on, and folding seats tucked in under the hardtop overhang provide somewhere for observers to sit during towing operations.
Like the cockpit sole, all seats are covered in neoprene padding and non-slip rubber. There are additional seats aft on the transom locker which houses hoses, pumps, lines, tow hawsers and other equipment. Firefighting and pump-out hoses are stored either side of the cockpit, which is self-draining through large scuppers.


A very large bollard amidships on the transom is the vessel's main tow-point; cleats forward, aft and amidships allow rafting and barging. A heavy-duty aluminium nudge bar protects the engines in close quarters work and keeps the towline clear of the outboards' cowlings during towing operations.
Hypalon tubes are a different profile to the old boat's. North Shore Rescue has a squarer bow and more substantial rubbing strips and the webbing is a different design too.
Unlike a recreational vessel, this 9.6m RIB – with its very specific fast response role – is designed and built to meet MOSS (Maritime Operators Safety System) and surveyed for both passenger and non-passenger duties.
Launching
Part of the brief for this vessel, as with Coastguard North Shore's previous fast response vessels, is launching off the beach at Browns Bay within a few minutes of receiving a call out.
North Shore Rescue is carried on a custom beach launching trailer and backed into the water using Coastguard's modified high-rider tractor. The tractor allows crews to launch the boat into deep water regardless of beach conditions.
According to John, they've always been able to launch vessels off the beach, although propeller and/or skeg damage has occurred when surf on the beach was high. In extreme seas, crews will sometimes take a boat into a nearby marina rather than trying to retrieve it on to the trailer.


Power comes from a pair of 250hp Yamaha V6 four-stroke outboards. Coastguard North Shore has run Yamaha outboards for several years and is full of praise for the service and support it enjoys.
The big Yamahas push the 3.5-tonne vessel to a maximum speed of 46 knots, with a practical cruise speed above 30 knots when conditions allow. This hull has a slightly longer waterline length than the old rescue vessel, but it handles in much the same way.
"Like our previous AMF," says John, "it's an exceptional performer in rough water, safe and predictable and able to maintain high average speeds under most conditions. And because it handles just like the previous AMF, familiarising our crews with the new vessel has been quick and easy."
Skipper for the day, Liam McIlveen, obviously relished driving the boat. He was happy to put it through its paces for our cameras, throwing it around and punching it through the odd launch wake. The hull made easy meat of the typical Hauraki Gulf chop.
A skilled helmsman, Liam could put the big RIB anywhere he wanted it, manipulating the wheel and the throttles to repeatedly come alongside Boating's photo boat. Close quarters work is an important part of North Shore Rescue's role and features prominently in crew training.
Simrad marine electronics include two multi-function displays for GPS-chart-plotting, sonar and radar, one 16-inch display at the helm for the helmsman and the second 19-inch display opposite to port for the navigator. A couple of Coastguard North Shore's volunteers work at Navico's R&D facility in Northcote, including Liam, so Simrad was a natural fit for this vessel.
There are data repeaters on the overhead console, UHF and VHF radios, as well as handheld VHFs, Lenco trim tabs, spotlight and loud hailer controls and more.
North Shore Rescue is the culmination of a great deal of effort and years of fundraising by the East Coast Bays community, because a one-off, highly specialised custom vessel like this doesn't come cheap.
She was launched on February 7 and officially presented to the public at a function at Coastguard North Shore's base at Browns Bay on March 4. Among the guest speakers was local MP and Minister for Foreign Affairs Murray McCully. The Browns Bay Business Association came in for special acknowledgement.


With shakedown and crew training nearing completion, Coastguard North Shore's new vessel is ready to start work. The organisation is confident it has the right Fast Response Vessel to operate successfully anywhere in the Hauraki Gulf, from Bream Tail to Great Barrier Island, Cape Colville and the Firth of Thames. North Shore Rescue is expected to ably serve greater Auckland's boating community for many years to come.