MODEL DETAILS
MODEL Given 10.8m Econocat
DESIGNER Ron Given
BUILDER Craig Partridge
CONSTRUCTION Plywood, foam and fibreglass composite
SPECIFICATIONS
LOA 10.8M
LENGTH (Waterline) 10.8M
BEAM 5M
DRAFT 0.7M
DISPLACEMENT 5800kg
ENGINE 2 x 87hp Lombardini
FUEL CAPACITY 800L
WATER CAPACITY 400L
Cruise Speed 14.5 knots
ACCOMMODATION Sleeping for four in two double cabins with bathrooms.
HIGHLIGHTS
A good sea boat
Fuel efficient
Modest power
Lightweight carbon fibre components
OBSERVATIONS
Cruises at 14.5 knots
Simple layout
Solar keeps batteries charged
Panoramic views from saloon
Fishing friendly
"I didn't want a planing boat, and I didn't want outboards, so Ron and I got together and came up with this concept. I wanted something cheap to run, big and comfortable and really good in a sea way – a good sea boat."
---
Kerikeri's Craig Partridge partnered with multihull legend Ron Given to create this 10.8m powercat which delivers exactly what he needs to enjoy some well-earned leisure time.
"Old sailors never die, they just get a little dinghy" – so goes the bumper sticker. But according to Partridge, they just want to spend more time fishing and less time getting a wet bum. So despite being a life-long sailor, this boat is all about cruising in comfort for Partridge and his wife Leigh – with Sky TV, so they don't miss the rugby, of course.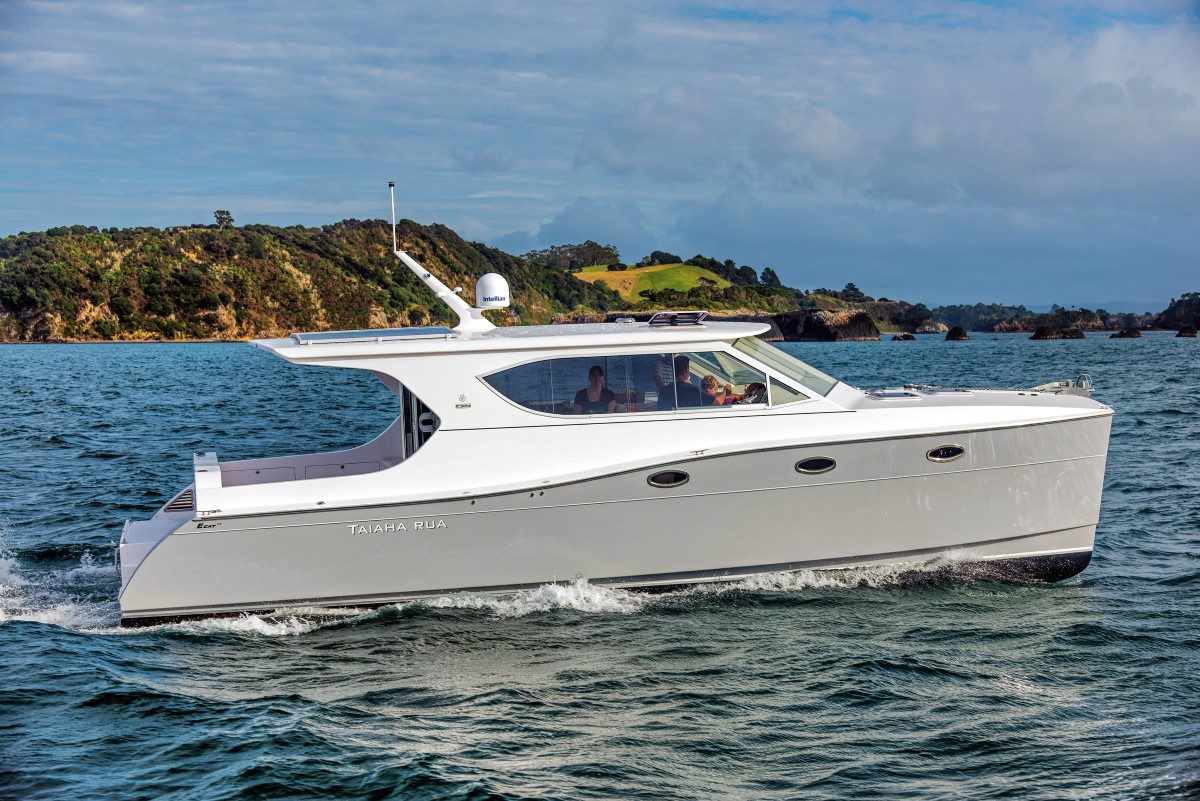 Partridge and Given joined forces on the project after delivering a Given-designed T11 powercat to New Caledonia in 2010. The pair took just two days and 18 hours to deliver the 12m cat 936 miles to Noumea
via Norfolk Island, at an average speed of 14.18 knots. Her twin 250hp outboards used around 2,500 litres of fuel – an average consumption of 1.335 litres per nautical mile per engine. This got them talking about fuel-efficient, moderate-speed displacement powercats and led to the genesis of this boat, Taiaha Rua.
"I've always wanted a sailing cat, but as I've got older I wanted to make things a bit easier," Partridge says. "I didn't want a planing boat, and I didn't want outboards, so Ron and I got together and
came up with this concept. I wanted something cheap to run, big and comfortable and really good in a sea way – a good sea boat."
The hull shape of Taiaha Rua had its genesis in another Given powercat, another 12m design launched in 2003. This boat combined an efficient hull form with moderate horsepower to produce a comfortable, fuel-efficient displacement cruiser with a reasonable turn of speed.
"The concept of the boat in my mind is for the retired yachtsman. As they get older they might not want to sail so much but they still want highly-efficient boats that are good in all sea conditions," says Given. "They don't necessarily want a high-speed boat, but a displacement boat that is highly economical."
The pair started firming up the design around two and a half years ago, with Given noting it has been "a bit of R&D all the way through. I don't think there's a complete set of drawings for the boat – we worked it out as we went."
While the majority of the boat is built in foam, glass and ply, Given relied on Partridge's knowledge of composites to introduce carbon fibre components in some areas for added strength without increased weight, such as the slimline mullions in the large wrap-around windscreen and lightweight carbon rudders and tillers.


Fuel efficiency was key. "Being a sailor I don't like spending money on diesel," Partridge says – so was attracted to Given's concept of an 'Econocat'. Taiaha Rua cruises comfortably at around 14.5 knots, powered by a pair of 87hp Lombardini diesels with sail-drives. While Partridge and Given haven't done a full evaluation yet, the manufacturer's stats indicate a fuel consumption of 0.55 litres per nautical mile per engine at cruising speed of 14.5 knots.
And the boat didn't need to be too big: Partridge's three children have all now flown the coop so he just wanted enough living space for him and Leigh (and ageing bull terrier Poppy) to cruise with another couple, and plenty of room in the cockpit for easy fishing – and eventually, hopefully, pulling in a marlin.
Consequently, the layout is simple: there is one 'suite' in each hull, each with a double berth and head and a shower in the 'bathrooms'. Partridge notes that if you wanted more family sleeping space, you could replace the starboard head with another pair of single bunks.
A large, open central saloon and galley occupy the bridgedeck. The table can be lowered to produce another double berth in the main saloon, but this space is mostly for relaxing and entertaining – and watching the rugby on the fold-down TV screen.
"That's Leigh's thing – I couldn't get her out here in the rugby season without it," Partridge says. A domed satellite receiver on the cabintop and the Sky card from home provide all the action while at sea.
The helm station is also in the saloon, on the starboard side, with a large double seat, excellent visibility and a nifty wooden footrest in just the right position. It's dominated by the GPS/fishfinder, with throttle controls to starboard and a comfortable wheel. The boat's sound system is also controlled from here; the boat-test team and photographers enjoyed listening to Partridge's eclectic iPod music selection as we worked.
The interior is a simple, creamy white, with oyster upholstery. The main colour accents come from cushions and other accessories, and the timber accents provided by the golden, lightly-mottled European beech trim and the 'teak and holly' flooring. It isn't teak at all, but a hard-wearing, great-looking non-slip vinyl, which costs around the same but is much more durable.
Surrounded by windows, the saloon is full of light and provides panoramic views. Tucked away in the sinuously shaped pelmets are nifty pull-down shades to block glare and provide privacy when required.
Outside, the cockpit is well-equipped to satisfy Partridge's passion for fishing. The stern is walk-through, with a step-down to boarding platforms on each hull, and one with a fold-down boarding ladder. Signs of the builder's attention to detail include live-bait tank with a viewing window and large rod lockers.


The large window hatches at the back of the saloon fold right up to the cockpit roof to let the outside in, and enable easy passage of snacks and refreshments from the galley to the fishing team. Bi-fold doors also link the two spaces.
The hull and top of the main saloon are female-moulded foam and glass, with double-diagonal plywood topsides glassed both sides, and the cabin-top and wing deck vacuum bagged ply-foam-ply sandwich. The result is a strong and light boat, which contributes to its fuel economy.
Given says he always advises builders working on one of his powercats to constantly think about reducing weight: "You have to think aircraft. You've got a lot of surface area and if you make it too heavy, you've lost the plot. Then they take too much horsepower, and use too much fuel."
He also warns about adding weight after the boat is launched: "If people have lots of space, they are going to fill it up. But you have to think, if it's too heavy, it's not going to go very well."
Exceptions have to be made, however. In the Partridges' case these include a Nespresso machine (very handy while boat testing), a Borelli benchtop and the galley's pièce de résistance, an Italian Frigonautic fridge unit. "I took my wife shopping," Partridge says sheepishly, "but I'm glad she talked me into it."
With these luxuries the boat might be quite power-hungry, but thanks to 750 watts of solar panels on the cabin top and an efficient MPPT (maximum power point tracking) controller, Partridge can leave the fridge and freezer (in the cockpit) running full-time and always have the boat's batteries fully-charged. "I wanted something that just had oodles of power," he says. "The stereo has three amplifiers!"
Hanging on the bulkhead at the bottom of the stairs in the port hull is a clue to the boat's name: a classic black-and-white image of the original Taiaha, a Lidgard 34 being sailed by Partridge's father Tom, his mother Helen, sister Lesley and a young Craig in a fetching pompom hat. Below it hangs a hand-carved taiaha.
"We went back through some of the names of boats our family had when we were kids, and Taiaha had a good feeling about it. We had that picture of the family sailing, plus the taiaha which Dad had carved," Partridge says.
We were fortunate enough to grab one of the last settled autumn days to take Taiaha Rua out for a spin from her base in the Kerikeri Inlet. Partridge enjoys doing civilised donuts while photographer Glenn McLelland puts up his drone to shoot the boat from the air, then we jump on and head off to one of the deserted, picturesque anchorages the Bay of Islands is famed for.


While at anchor we are joined by Given and his wife Andrée on their T9 powercat, and talk about Given's fascinating life in design. He has been designing multihulls for nearly 50 years and was the father of the Paper Tiger class, as well as designing the famous pink racing catamaran Split Enz, which held the Coastal Classic record for 14 years (Partridge was on board when they set it in 1996.)
In his 70s, Given is still an active boatie, dividing his time between Kerikeri and New Caledonia, where many of his designs are based.
A slight breeze kicked in for our cruise out into the bay, enjoying the smooth ride and easy handling. The hulls travel very cleanly through the water, with the knuckle just touching most of the time. We don't get a chance to try much wave action, but Partridge is "absolutely confident that the boat is going to take the rough stuff. But we haven't put any water over the foredeck yet – we don't even get any spray."
And why would you take on the rough stuff if you could head away early on a Friday night, motor for less than half an hour then anchor up in one of the many gorgeous spots around the Bay, put your feet up and watch the rugby?
As another bumper sticker goes: "tastes best when you've earned it".