MODEL DETAILS
MODEL Jeanneau Leader 40
DESIGNER Jeanneau
BUILDER Jeanneau
SPECIFICATIONS
LOA 12.33M
LENGTH (Waterline) 10.98M
BEAM 3.8M
DRAFT 1.1M
DISPLACEMENT 7531kg
ENGINE 2 x Volvo Penta D6-370 DP
FUEL CAPACITY 724L
WATER CAPACITY 250L
Maximum Speed 40 knots
Cruise Speed 30 knots
ACCOMMODATION 5 or 7 depending on cabin configuration.
HIGHLIGHTS
Enthusiastic performer
Stylish decor
Plenty of accommodation
OBSERVATIONS
Good power-hull marriage
Sunroof is bliss on a sunny day
Well finished inside and out
After 60 years of building luxury boats, Jeanneau's become one of the best known and most respected brands in the world of fibreglass vessels. And while the name's synonymous with cruising yachts, the company also has an extensive range of launches.
---
It was the sporty but spacious Leader 40 we came to experience on a beautiful summer's day at Auckland's Orakei Marina. A blend of Italian design and French building prowess, the Leader's a beautiful piece of engineered art. Despite the heritage they are not afraid to get down and dirty though, and the smaller Leader 36 recently featured on the TV series Fish of the Day with Clarke Gayford.
The Leader 40's powered by a pair of Volvo D6-370 diesels driving Volvo Duoprop sternlegs. Stepping aboard is simple thanks to the wide teak-covered swim platform, with a couple of steps leading up into the spacious open lounge. Leaders are all about enjoying the sunshine, and with the open aft section of the cabin there's a continuous flow between the covered interior and the sunny lounge and swim platform.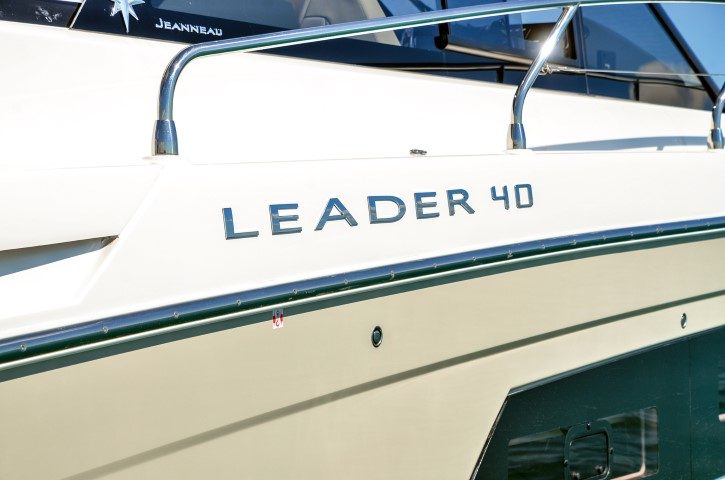 First impressions often tell you a lot about a boat, and mine was 'Wow'! The gleaming gelcoat, offset by smart teak decking and discreet grey panels in the upholstery, create a very sophisticated feel. Darkened windows and a raked cabin roof add to her racy looks, and the workmanship is impeccable. The interior is wide and roomy, a theme that I discovered is carried throughout the boat.
A few different configuration options are on offer – the swim platform, for example, is available in a hydraulic version for launching a tender. This model also featured the larger cockpit lounge option with a gas barbecue built into the transom. Another version has an extendable sun lounger instead. The swim platform is perfect for fishing or diving, with heaps of space and neatly isolating any fishy mess from the interior.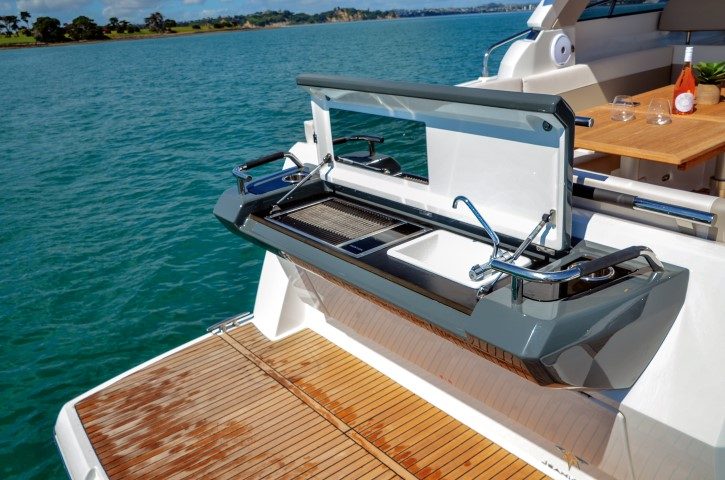 In a boat this size there's no shortage of space (or storage), and in addition to the seating around the saloon table there is also a generous passenger seat alongside the helm. This has an interesting option with a rear-facing lounger, for those wanting to recline but stay completely out the sun. A small food preparation area is built into the starboard side behind the helm position, tucked neatly away under a cover when not in use.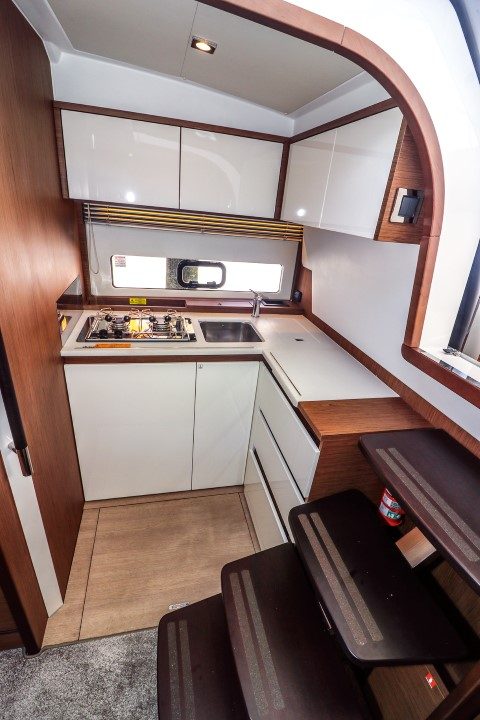 Nicely-arranged and uncluttered, the helm station is dominated by a large Raymarine touch-screen display taking centre stage and providing the primary instrumentation. All engine parameters can be displayed on the screen, as well as usual chartplotter and fishfinder functions.
This is supplemented by a pair of Volvo digital display modules showing fuel and performance data for the engines, while a comprehensive set of conventional gauges for the Volvos is set further back on a second recessed alcove, providing a continuous display of all critical engine data.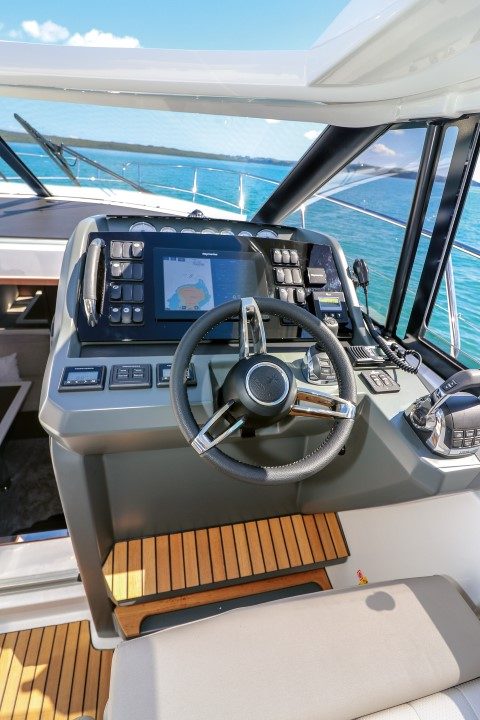 The padded sports steering wheel is a pleasure to use, and the power steering and electronic Volvo throttles are light and precise. This model features the Volvo Joystick Docking control for close manoeuvring. It's well-placed – it won't get in the way for conventional steering but is easy to reach when needed. Controls for the anchor winch, and a range of switches for lighting and other accessories, complete the dash layout.
The skipper's seat is superb and well-padded, with a movable bolster for thigh support when standing or cushioned comfort when seated. Two different footrests cater for a variety of foot positions, and the helm seat's wide enough for two. Sliding windows either side provide good ventilation.
One of the highlights of this boat is its massive sun roof. It opens the full width of the cabin, sliding back at the touch of a button. Under way it's great to have a gentle breeze wafting through the roof, and we left it open all morning.
There are two different cabin configurations for the Leader 40, with an open-top also available. But the Sportop version (this model) is more suited to New Zealand's variable weather. The cockpit can also be fully enclosed at the rear with a set of factory-made canvas and clears.
The engine compartment, accessed through a hatch and ladder under the lounge deck, is spacious and neat. There is sufficient room to reach around the twin 5.5-litre diesels. All service items are easily reached, and although headroom is limited, there's plenty of height above the engines. Various tanks and power management systems are also easily accessible.
Forward of the helm is a short stairway down to the interior, where you'll find two well-appointed cabins and a convertible saloon. The forward master cabin with large double bed has its own private access to the shower and toilet, and has windows on either side of the hull plus an opening hatch. The guest cabin to the rear features three single berths and a dressing table, with access to the toilet and shower across the passageway.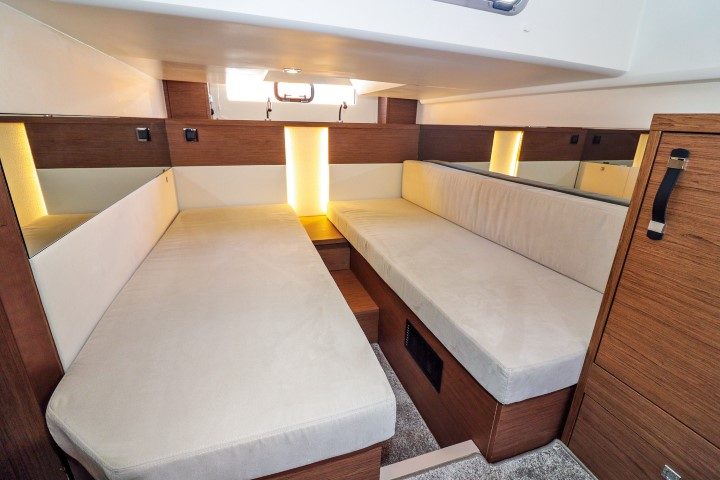 Located midships, the saloon's dining table and comfortable seating is opposite the L-shaped galley, equipped with a gas hob, sink and fridge plus masses of storage. It's amazing how much Jeanneau's managed to fit into a hull with an 11m waterline length.
Depending on the cabin layout option, a total of seven berths are possible, making this the ideal boat for taking a few friends away on an extended weekend. A 250-litre freshwater tank also ensures you can stay out for a fair period of time without running empty.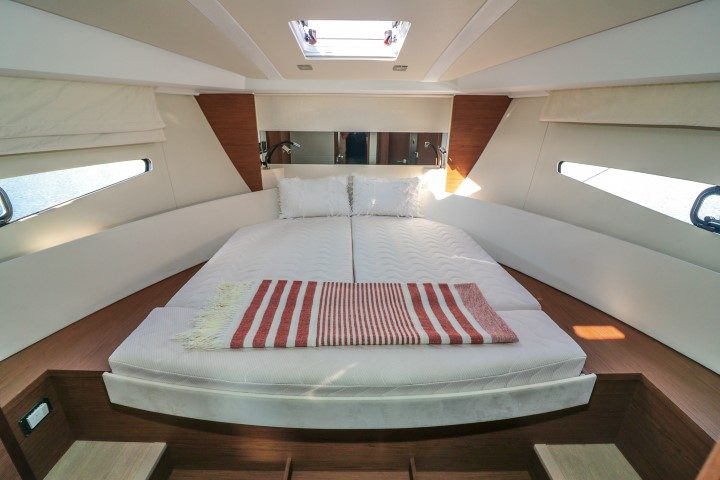 Back topsides, access to the sun deck on the bow is via a walkway on either side of the main cabin, with a safe path of non-slip, surface-textured floor, safety rails and plenty of handholds. Squabs can be dropped into the moulded recesses in the bow – a perfect place for the sun bunnies who might want a bit of isolation from other guests.
Jeanneau says the Leader 40's hull has been designed for performance, and certainly our experience bears this out. Once clear of the marina we cruised very comfortably and effortlessly at just under 30 knots. Pushing the throttles all the way we easily reached 40 knots, leaving the photo boat struggling to keep up. The speed was hardly noticeable, and we cruised unruffled through a couple of wakes on an otherwise perfect day. For a vessel this size she's very responsive, and although this model has the option of the smaller D6-300 engines the 370s are ideal.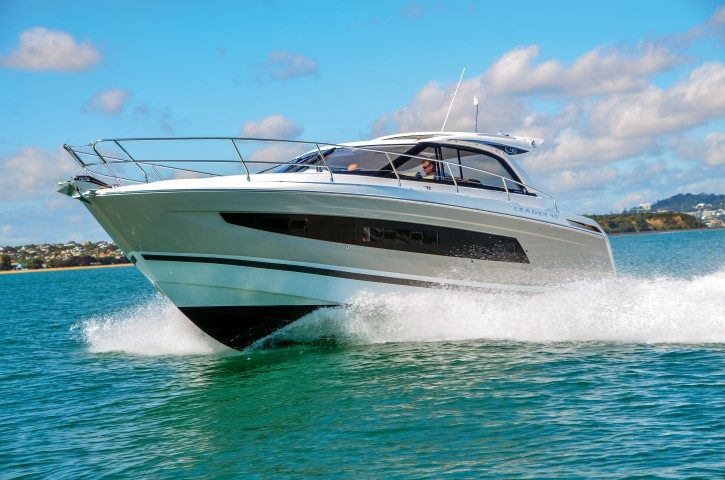 Although fuel consumption is probably not high on the agenda when buying a boat this size, the Volvos are pretty frugal for a vessel weighing 7.5 tonnes. At cruising speed the engines were ticking over at about 2800rpm, with a total fuel consumption of less than three litres per nautical mile. Even at full roar total consumption was less than four litres per nautical mile. With her twin 360-litre fuel tanks, this gives a comfortable operational range in excess of 200 nautical miles, allowing a safety margin.
While this boat is pushed along by conventional Volvo sternlegs spinning Duoprops, rather than the newer Volvo IPS drives, these are nevertheless power-steered drives. This then provides the option of the Joystick Docking system, thanks to the software in the Volvo Electronic Vessel Control system.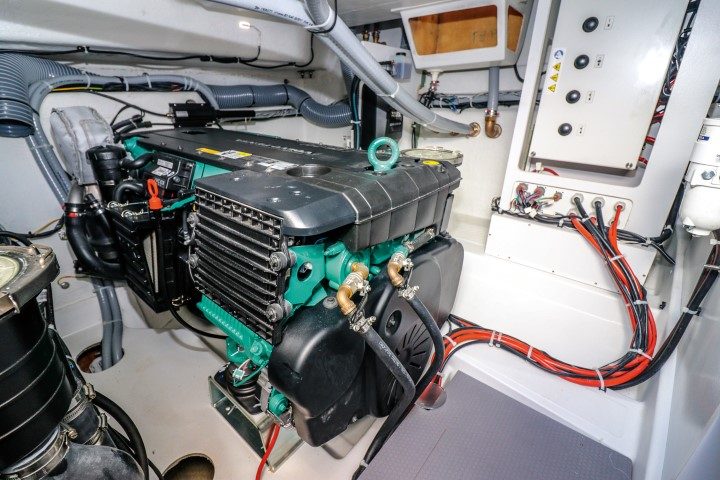 The Leader 40 does not have a bow thruster, yet we were able to easily back into the marina berth with pinpoint precision using the joystick. The boat can be manoeuvred in any direction, even sideways, at the touch of the joystick.
This turns the usually-tense docking operation, normally involving complicated shift, throttle and steering combinations, into something very simple. In fact, the joystick is quite fun and certainly an eye-opener for anyone used to manoeuvring the conventional way. It could even be a marriage saver!
All too soon we had to get off and hand back the keys. Although a production boat like this has fewer options available than a custom build, what you get is absolute perfection in craftsmanship, with every detail meticulously thought out.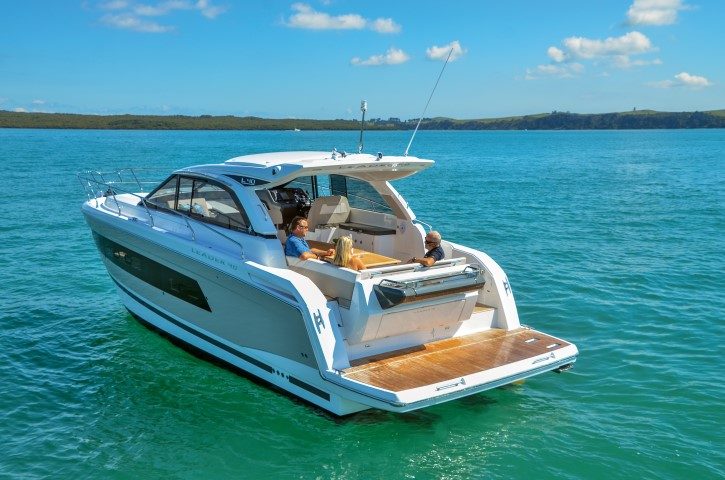 This is a perfect leisure boat, suited to family and friends and a fun day out on the water rather than hardcore game fishing or scuba diving expeditions. Having said that, it can certainly handle the rough stuff and should be hard-wearing. Couldn't fault the boat in any way, apart from the fact that my bank balance does not allow me to buy one!